Developed to provide the nutrients, surfactants and moisture needed to stimulate bioremediation on landfarming projects.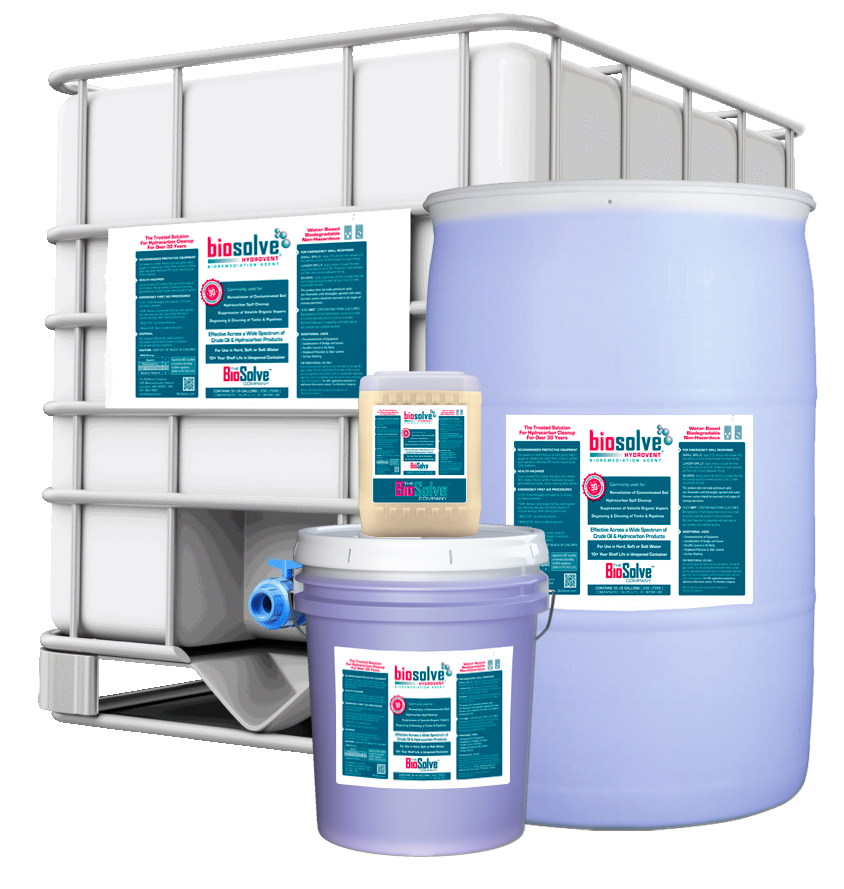 BioSolve® Hydrovent is a new product developed for accelerating aerobic bioremediation. Hydrovent is formulated to provide the nutrients, surfactants and moisture needed to stimulate bioremediation on landfarming projects.
The surfactants in Hydrovent are themselves "readily biodegradable." They act to solubilize and emulsify petroleum products, making them more readily available ("improved bioavailability") to hydrocarbon degrader bacteria that reside in the aqueous phase.
The balanced nutrient package in Hydrovent is essential to stimulate and maintain a high level of microbiological activity.
Hydrovent has been proven effective in laboratory testing and field applications. In laboratory testing, the concept of using an integrated formula with BioSolve® Activator surfactants, nutrients and moisture was demonstrated on actual drilling mud contaminated with diesel fuel. Test results showed that bioremediation activity was five times more effective at reducing petroleum hydrocarbons than aeration alone and about 40% more effective than aeration with nutrients.
These results led to the final formulation of Hydrovent and subsequent field at a drilling site in West Texas. The application of Hydrovent achieved an 87% reduction in total petroleum hydrocarbons (TPH) in only 21 days.
Improved bioavailability of petroleum hydrocarbons.
Stimulates microbiological activity.
Accelerates bioremediation.
Easy to use; just add water, apply and mix.
For use on landfarming projects to stimulate aerobic bioremediation of petroleum hydrocarbons produced during oil drilling or excavated from remediation sites.
May also be used for treating small surface spills consistent with local, state and federal regulations
For additional information on aerobic bioremediation using BioSolve® products please see Landfarming (add hyperlink) under Applications.
BioSolve® Hydrovent is formulated and sold as a concentrate and is typically applied as an 8% solution.

"BioSolve® Pinkwater clearly outperformed everything else we have tried. I'm a real believer in the product."
Lane Altenbaumer
Specialized Maintenance Services, Carylon Corporation
Pasadena, Texas

"We, and the customer were extremely pleased with BioSolve's performance in quickly and permanently removing the oil and odor. We have found an excellent product in BioSolve® and intend to continue stocking and using it."
Love
Effron Heat
Poughkeepsie, New York

"After application [of BioSolve] odors were reduced to non-existent and no further complaints were made. Re-application of BioSolve® was also used when soil was moved or turned."
Manager
Rainbow Environmental Services Pty. Ltd.
New South Wales, Australia

"[Using BioSolve] allowed us to perform a job [tank cleaning] in a way that was environmentally safe as well as ensuring the safety of our workers. We were also able to take credit for waste minimization efforts as the job created no waste."
Construction Manager
Bechtel Savannah River, Inc.
Aiken, South Carolina

"You guys have a unique product. Every MGP job has odor issues. It would be foolish not to
include BioSolve when submitting a bid for that work."
Lou Francisci
Viasant, LLC
Media, PA

"I used it and the results were miraculous. The readings in ambient air went from 150 PPM to 5
PPM in less than five minutes. I was astounded."
Dwight Schwedman
John A. Witoshynsky, Inc

"We will use Pinkwater to clean equipment contaminated with creosote and NAPL. Simple Green is not doing the job, so we will switch to Pinkwater."
Michael Tandarick
Sevenson Environmental

"When I heard about BioSolve I was really skeptical, but I tried it.  And it worked better than they said it would. I now use BioSolve Pinkwater for small tank cleaning, spill clean-up and vapor suppression. Great product."
Customer
Los Angeles CA
FIELD APPLICATIONS

Pinkwater

Clear

Activator

Hydrovent

Surfactant Enhanced Aquifer Remediation

Aerobic Biodegradation of Impacted Soil
Insitu Spill Remediation
Land Farming & Biopiles

Industrial Maintenance
UST & AST Cleaning/Degassing
Subfloor/Interstitular Decomntamination

Vapor/Odor Control
MGP Site & Brownfield Remediation
Stabilization/Solidification
Excavation in Impacted Soil

Hydrocarbon Spill Response
Spill Clean-Up
Equipment Decontamination