In-Situ Soil Remediation
or Surfactant Enhanced Soil Remediation
In-situ remediation for extracting hydrocarbon contamination from soil and groundwater can be thought of as a three-step process as outlined in the below.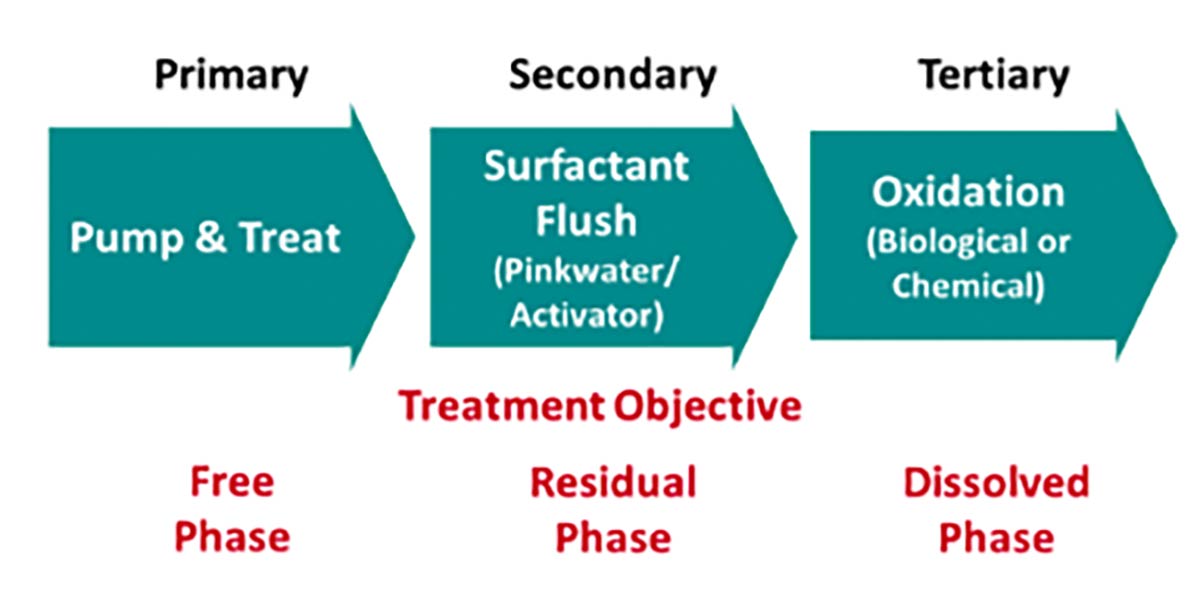 "BioSolve® Pinkwater clearly outperformed everything else we have tried. I'm a real believer in the product."
Lane Altenbaumer
Specialized Maintenance Services, Carylon Corporation
Pasadena, Texas

"We, and the customer were extremely pleased with BioSolve's performance in quickly and permanently removing the oil and odor. We have found an excellent product in BioSolve® and intend to continue stocking and using it."
Love
Effron Heat
Poughkeepsie, New York

"After application [of BioSolve] odors were reduced to non-existent and no further complaints were made. Re-application of BioSolve® was also used when soil was moved or turned."
Manager
Rainbow Environmental Services Pty. Ltd.
New South Wales, Australia

"[Using BioSolve] allowed us to perform a job [tank cleaning] in a way that was environmentally safe as well as ensuring the safety of our workers. We were also able to take credit for waste minimization efforts as the job created no waste."
Construction Manager
Bechtel Savannah River, Inc.
Aiken, South Carolina

"You guys have a unique product. Every MGP job has odor issues. It would be foolish not to
include BioSolve when submitting a bid for that work."
Lou Francisci
Viasant, LLC
Media, PA

"I used it and the results were miraculous. The readings in ambient air went from 150 PPM to 5
PPM in less than five minutes. I was astounded."
Dwight Schwedman
John A. Witoshynsky, Inc

"We will use Pinkwater to clean equipment contaminated with creosote and NAPL. Simple Green is not doing the job, so we will switch to Pinkwater."
Michael Tandarick
Sevenson Environmental

"When I heard about BioSolve I was really skeptical, but I tried it.  And it worked better than they said it would. I now use BioSolve Pinkwater for small tank cleaning, spill clean-up and vapor suppression. Great product."
Customer
Los Angeles CA
To remove residual NAPL trapped in the subsurface as part of a project to achieve site closure and comply with local regulatory standards on groundwater quality.  
NAPL that is trapped in the subsurface is mobilized and removed by aggressively flushing subsurface contaminated zones with a surfactant solution.
Pinkwater and Activator are both highly lipophilic formulations that strip oil from soil particles on contact during surfactant flooding.
BioSolve® products are effective on a wide range of oil, fuel and petrochemical products.
Emulsions are very stable; leaving no residual hydrocarbons behind.
Products work at low concentrations.
Easy to use; performance not impacted by groundwater chemistry.
Requires no specialized equipment.
Products are compatible with many tertiary treatments
Water-based, non-hazardous, no solvents, biodegradable.
Inject (gravity feed or low-pressure pump) a 2% to 6% dilute solution of BioSolve® Pinkwater or BioSolve® Activator into the formation as close to the middle of contaminated zones as possible. Preferably recover from wells down gradient to "pull' Pinkwater solution through the contaminated zone. The alternative of injecting and recovering from the same well is a less effective method.
---
During extraction, periodically inspect effluent to determine when "breakthrough" occurs, as evidenced by a light pink (Pinkwater) or light blue (Activator) color. Continue extraction well beyond "breakthrough" to pull as much product as possible through the contaminated zone to recover hydrocarbons.
---
When injection and recovering from a single well, the treatment radius can be extended by "chasing" the surfactant injection with additional water.
---
Multiple treatments (for example, monthly) often improve NAPL recovery efficiency.
---
Recovery volume should be 2 – 5 times the volume of surfactant solution that was injected.
---
Recovered effluent may be treated on site (large projects) or removed from the site using a qualified disposal company.
FIELD APPLICATIONS

Pinkwater

Clear

Activator

Hydrovent

Surfactant Enhanced Aquifer Remediation

Aerobic Biodegradation of Impacted Soil
Insitu Spill Remediation
Land Farming & Biopiles

Industrial Maintenance
UST & AST Cleaning/Degassing
Subfloor/Interstitular Decomntamination

Vapor/Odor Control
MGP Site & Brownfield Remediation
Stabilization/Solidification
Excavation in Impacted Soil

Hydrocarbon Spill Response
Spill Clean-Up
Equipment Decontamination