BioSolve® Pinkwater,
Our Flagship Product
Pinkwater contains no caustic, hydrocarbon solvents, d-limonene or any other hazardous or restricted ingredients.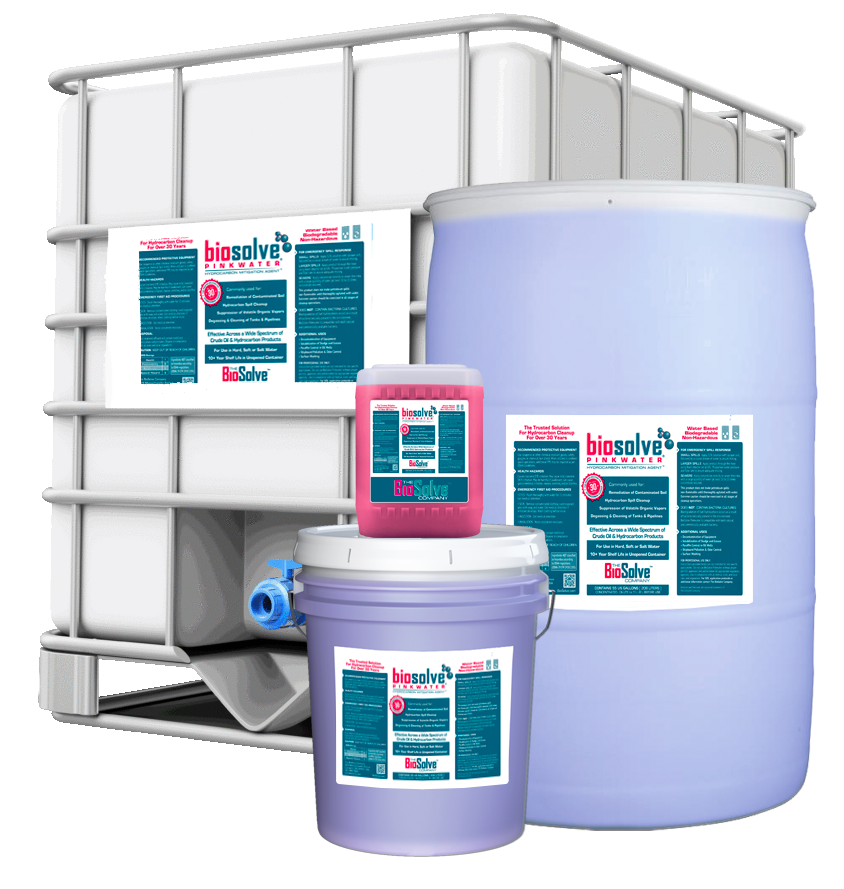 BioSolve Pinkwater was developed and introduced to the market over 30 years ago, and is highly regarded for its reliable performance and ease of use across a wide range of applications as a hydrocarbon mitigation agent.  Like all BioSolve® products, Pinkwater is a water-based formulation of nonionic surfactants and other specialty chemicals.
Pinkwater contains no caustic, hydrocarbon solvents, d-limonene or any other hazardous or restricted ingredients.
Pinkwater's strongly lipophilic ("oil-loving") surfactant formulation attacks hydrocarbon mitigation problems in two ways. 
First, it lowers the surface tension in liquids allowing easier spreading or "wetting."  This functional characteristic releases hydrocarbons from the surfaces they are adsorbed to, including soil particles, hard surfaces and fabrics.
Second, the surfactants in BioSolve® Pinkwater will migrate to the surface of hydrocarbon droplets and, under the right conditions, encapsulate the oil droplet creating a micellar emulsion.
Pinkwater's initial success as a clean-up agent for roadside fuel spills resulted from its unique formulation as an emulsifier and hard surface cleaner.  When applied to a fuel spill, Pinkwater encapsulates hydrocarbons, dramatically reducing vapor pressure and, when properly agitated, will make the spill non-flammable.  (See Application Information on Emergency Spill Clean-Up).
Highly lipophilic (oil-loving) formulation quickly and efficiently emulsifies a wide range oils, fuels and petrochemicals. 
Excellent vapor suppression agent for fuel odor control; forms an effective temporary barrier in the soil on contact to prevent volatilization.  Typically used on active sites where maintaining a continuous barrier by using an odor control foam is impractical. 
Highly effective hard surface cleaner, leaving no residue on equipment, roadways, floors or internal surfaces in pipelines and tanks.  With no residue, there are no hazardous VOCs or nuisance odors. 
Highly stable emulsion allows recovery of hydrocarbon-laden effluent from in-situ soil remediation projects as well as surface washing and tank cleaning with no hydrocarbon residue. 
Will not adversely impact wastewater treatment systems.
Compatible with many tertiary treatment technologies. 
As an amendment for in-situ remediation projects after pump & treat systems have become non-productive. Pinkwater will mobilize and emulsify most hydrocarbons for aqueous recovery.
For vapor suppression and odor control during excavating or soil mixing in contaminated soil where workers and sensitive receptors may be adversely impacted. Most frequently used during active excavation or soil mixing.
For large and small tank and pipeline cleaning. Most frequently used for final cleaning and degassing prior to manned entry or decommissioning.
For surface cleaning and equipment decontamination at commercial and industrial sites.
Pinkwater works most effectively with low to moderate viscosity hydrocarbons, which can be easily and completely mixed with water to achieve mobilization and emulsification. For highly weathered hydrocarbons and heavy oil products, please call The BioSolve® Company for additional information.
BioSolve® Pinkwater is formulated and sold as a concentrate and is typically applied as a 2% – 6% solution.

"BioSolve® Pinkwater clearly outperformed everything else we have tried. I'm a real believer in the product."
Lane Altenbaumer
Specialized Maintenance Services, Carylon Corporation
Pasadena, Texas

"We, and the customer were extremely pleased with BioSolve's performance in quickly and permanently removing the oil and odor. We have found an excellent product in BioSolve® and intend to continue stocking and using it."
Love
Effron Heat
Poughkeepsie, New York

"After application [of BioSolve] odors were reduced to non-existent and no further complaints were made. Re-application of BioSolve® was also used when soil was moved or turned."
Manager
Rainbow Environmental Services Pty. Ltd.
New South Wales, Australia

"[Using BioSolve] allowed us to perform a job [tank cleaning] in a way that was environmentally safe as well as ensuring the safety of our workers. We were also able to take credit for waste minimization efforts as the job created no waste."
Construction Manager
Bechtel Savannah River, Inc.
Aiken, South Carolina

"You guys have a unique product. Every MGP job has odor issues. It would be foolish not to
include BioSolve when submitting a bid for that work."
Lou Francisci
Viasant, LLC
Media, PA

"I used it and the results were miraculous. The readings in ambient air went from 150 PPM to 5
PPM in less than five minutes. I was astounded."
Dwight Schwedman
John A. Witoshynsky, Inc

"We will use Pinkwater to clean equipment contaminated with creosote and NAPL. Simple Green is not doing the job, so we will switch to Pinkwater."
Michael Tandarick
Sevenson Environmental

"When I heard about BioSolve I was really skeptical, but I tried it.  And it worked better than they said it would. I now use BioSolve Pinkwater for small tank cleaning, spill clean-up and vapor suppression. Great product."
Customer
Los Angeles CA
FIELD APPLICATIONS

Pinkwater

Clear

Activator

Hydrovent

Surfactant Enhanced Aquifer Remediation

Aerobic Biodegradation of Impacted Soil
Insitu Spill Remediation
Land Farming & Biopiles

Industrial Maintenance
UST & AST Cleaning/Degassing
Subfloor/Interstitular Decomntamination

Vapor/Odor Control
MGP Site & Brownfield Remediation
Stabilization/Solidification
Excavation in Impacted Soil

Hydrocarbon Spill Response
Spill Clean-Up
Equipment Decontamination